Robert E. Lee Field Desk And Table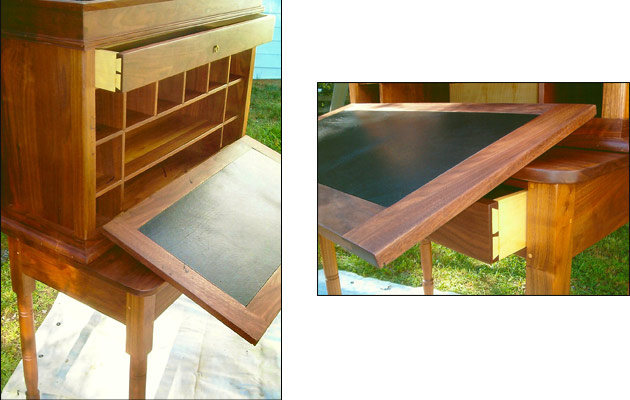 Walnut Shown Above
See the desk built with Cherry >
The desk and table are hand made in strict conformance with quality standards set by and with permission of the National Park Service in Gettysburg. This two piece filed desk was purportedly used by General Lee at Richmond, Seven Pines, Petersburg and Appomattox as per N.P.S. records and hails from the Chewning Collection.
Logan Creek Designs reproduction is as follows:
Desk 32¾" wide by 22½" high by 11¼" deep
Desk front 29½" by 17¼" width bonded leather insert
10- square pigeon holes and 2 storage shelves
Table 35″ wide by 28″ high by 20″ deep
Drawer approximately 28″ wide by approximately 3 ½" high by 10″ deep
Overall height approximately 61″
Hand rubbed oil finish
Available in walnut or cherry
$7850.00 plus tax and shipping
Contact us to place an order.
Back to Product Gallery
---