Stonewall Jackson Deathbed
Just past 9:00 pm on Saturday May 2, 1863, General Jackson and his staff scouted forward of Confederate lines seeking to complete the late afternoon rout of the Union right.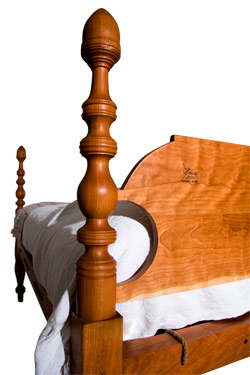 In the wooded darkness, Confederate troops sensed a ruse, opened musket fire and killed or wounded many of the mounted staff. General Jackson was struck thrice by friendly fire, twice the left arm and less severely in the right hand.
Around midnight, his mangled left arm was amputated just below the shoulder by Dr. Hunter Holmes McGuire in a field hospital near Wilderness Run. General Robert E. Lee ordered the evacuation and Jackson was moved over 26 miles rearward to Fairfield, the farm of Mr. and Mrs. Thomas Coleman Chandler very near Guinea Station on the R.F. & P. Railroad.
Jackson was tenderly placed in the four post acorn top rope bed that stands today in the Chandler office, set up in a hastily prepared sick room on the first floor. Although well attended and recovering splendidly from his wounds, the General died in the rope bed on Sunday May 10th, 1863 at 3:15pm…at peace…crossing over the river.
Logan Creek Designs, with permission from the National Park Service is humbled to offer a close copy of the bed. This historic artifact remains today respectfully displayed in the Chandler Estate Office under care of the N.P.S. and currently available for viewing on a daily schedule.
Logan Creek Designs reproduction is as follows:
Solid cherry acorn top tuned posts
Solid cherry side rails and headboard
Authentic hand-laid hemp rope
Hand-rubbed oil finish
Headboard/footboard approximately 56" wide
Rails approximately 72" long; bed approximately 80" long
Post approximately 3 5/8" diameter
Available in rope style or slat
Uses full mattress 54" by 74" or ¾ mattress 48" by 72"
$9550.00 plus tax and shipping
Contact us to place an order.
Back to Product Gallery
---